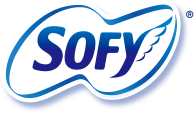 History of SOFY

Unicharm's sanitary products have been evolved for over 50 years to the needs of women. We are constantly committed to reducing discomfort and ensuring a secure feeling and comfort during a menstrual period through our advanced technology.

Origin of the name "SOFY"

The name SOFY has the meaning of "Sophisticated" and "Soft-hearted".
~1990
1963

Commenced manufacture and sale of feminine napkins

1972

Launched "Charm Nap Mini" to make you feel secure at night.

An overnight napkin to guard leakage from behind with a single pad.

1976

Launched "Charm Nap Mini", a slim type napkin

A slim napkin made from customer's voice that "pads are too thick and hard to use"

1980

Launched "Charm Soft Tampon"

Absorbs menstrual blood directly

1982

Launched "SOFY"

The brand "SOFY" exists for quite a long time

1988

Launched "SOFY Sara", a new-material napkin with a revolutionary absorbency

A new-material napkin made from customer's dissatisfaction with slow absorption realizes fast absorption and sooth texture that conventional non-woven types (cotton) couldn't have provided

1990

Launched "SOFY Sara Wing" to meet with the changing needs of women

A napkin with wings made from women's intent to be active even during heavy periods without concerning leakage from sides covers sanitary shorts and prevents leakage
1991~2004
1991

Launched "SOFY Sara Super for Night"

The first overnight napkin with "hip guard" on the back in the shape of a spreading fan, to prevent leakage on days with heavy flow

1993

Launched "SOFY Sara Side Gathered", with three-dimentional side gathers

A napkin with three-dimensional gathers at the sides to prevent leak

Global:Launched "SOFY"in Taiwan

1995

Launched "Bodyfit"

A napkin with three-dimensional cushion structure to fit body

Global:Launched "SOFY" in Thailand

1997

Launched "Body Fit for Light Flow/Day", a likely but never-seen-before napkin

With a napkin made from customer's wish to forget about menstruation during light periods, you'll forget you have it on

Global:Launched "SOFY" in Singapore

Global:Launched "SOFY" in Malaysia

Global:Launched "SOFY" in China

1998

Global:Launched "Charm" in Indonesia

2001

Launched "Cho Jukusui Guard", to support your good night sleep

An overnight napkin with a back-fit stopper prevents leakage from behind and turns your insecure night into secure one to support your deep sleep

2004

Launched unique-shaped "SOFY Wide Guard"

An unique ultra-long napkin covers your hip and fully guards shorts to prevent leakage
2005~
2005

Launched "SOFY Body Piece", the next-generation feminine care product

A body-wearing type leads to a revolution in conventional napkins

Launched "SOFY Body Fit Fuwapita Slim", the slim type with new texture and perfect fit for bodyline

New type slim napkin that is slim but puffy in the middle

Global:Established LG Unicharm Corporation, in South Korea

2007

Launched "Hadaomoi" using the newly-developed surface sheet

The original new surface sheet for the sensitive skin reduces menstrual blood that touches the skin to protect the skin from irritation

Global:Launched SOFY in Saudi Arabia

2008

Launched "SOFY Kiyora", a panti-liner

Absorbs vaginal discharge and sweat with three-dimensional surface shape, reducing the stickiness. It will keep your skin and underwear clean.

2010

Global:Launched "SOFY" in India

Global:Founded consolidated subsidiary in Egypt

Global:Acquired Vietnam hygiene products manufacturer
Diana Joint Stock Company

2011

Launched "Hadaomoi Ultra Slim"

Ultra Slim napkin that "absorbs firmly, and doesn't get sticky"

2012

Launched "Chao shushui chaobao sui xin fan" in China

A slim napkin with security of an overnight pad

Launched "Tanli tieshen jibao 0.1" in China

The thinnest supreme napkin of UC

2013

Launched "Koudai mofa" in China

Palm sized napkin convenient for carrying. With fragrace.

Global:Acquired Myanmar Care Products Limited

2014

Launched "Chao shushui anxin ku" in China

A shorts type sanitary napkins preventing night leakage from all sides
*Features of the released product may have been changed from the original commodity due to specification changes and regulations.